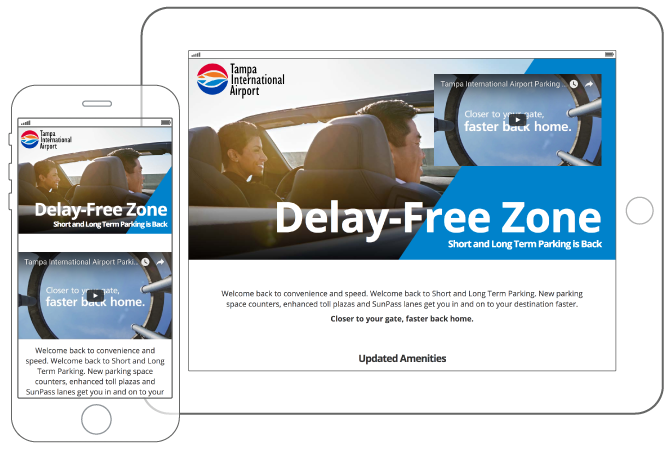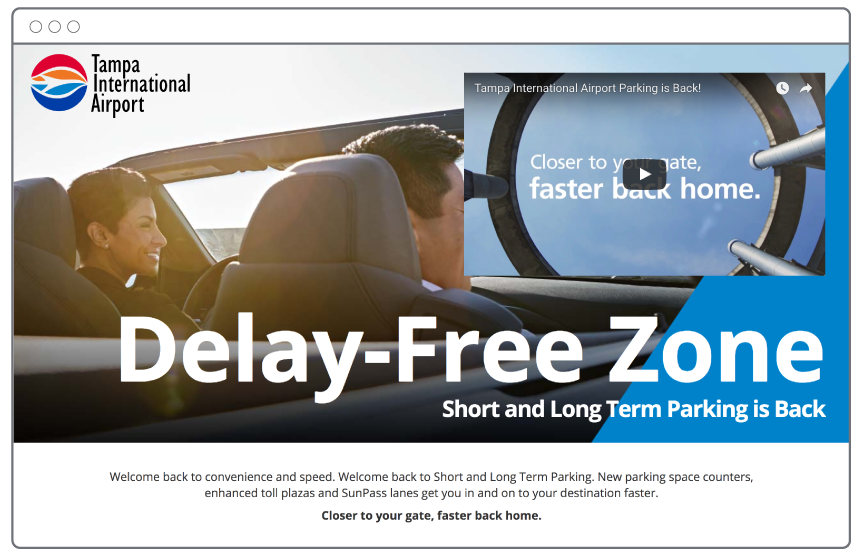 NOTE: These landing pages coincide with each of the three phases of this campaign. Both phase 1 and 2 have launched with the phase 2 active at this time. Once phase 3 launches, then we will post it here for your viewing enjoyment.
Tampa International Airport commissioned Grafx Design & Digital with producing an integrated advertising campaign to promote its newly renovated Short and Long Term Parking Garages. The integrated campaign featured an array of media tactics including billboards, on-site signage, radio, video, online banner advertising and campaign specific landing pages.
The Tampa International Airport provided its objectives then confidently put the Grafx team to work. The full assignment included campaign messaging development, visual concept design, copywriting, location photo/video shoot and creating all media elements required.
Up against an extremely tight deadline (as usual), Grafx went right to work developing and refining the concepts, designing storyboards and organizing the shoot logistics. These fully responsive landing pages were built to integrate the campaign video along with the client's email marketing vendor.
Campaign development moved along expeditiously in thanks to a well-organized client who provided prompt and efficient feedback and approvals. The Grafx team was able to hit its deadlines and the client offered their regards.
Below is an overview if the objectives and messaging strategy developed by the Grafx team.
Campaign Objectives:
After a successful campaign to promote the economy parking and cell phone lots during heavy construction, the airport looks to get customers back to using its Short and Long Term Parking options.
Show the benefits of self-parking compared to ride-share options.
Campaign Story:
Parkway construction has ended. Short and Long Term Parking is fully open with updated amenities for faster, easier, in-and-out parking with convenient access to the airport terminals.
Strategic Messaging Approach:
Single Overarching / Unifying Campaign Theme
Three-phase sub-campaign messages based on media buy timing.
a. Media Phase 1: Construction has ended / upgrades / amenities
b. Media Phase 2: Benefits of self-parking
c. Media Phase 3: Efficiency inside and out
Campaign Elements:
Video (show storyboard if that is possible)
Radio (I will see if I can get any clips from the reads)
Billboards
On-site Signage
Animated Banners Ads
Responsive Landing Page
"Thanks again to you and your team for working on our parking campaign. I know it was a little rushed at the beginning, but you guys came through and produced really nice work. The overall reception has been positive so I am certain the analytics will parallel that. Looking forward to working with your team on future projects."
– Robert Connelly / Tampa International Airport
Like What You See?
Need a quote? Have a question? Just want to say hey? Click the button below and let us know. We are more than happy to help out any way we can.